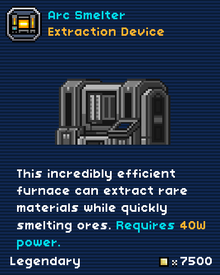 The Arc Smelter is a powered station that refines ores and other blocks into many other useful materials. Introduce your items into the left slot, and they're processed into bars and new materials and deposited in the right slots. It requires 12u of power to operate.
It's the upgraded version of the Blast Furnace.
Unlocked by: Blast Furnace.
It has an efficiency of about 60-70% (Fission Furnace has an efficiency of 50%) and provides even more extra materials.
Use the source material for updating
itemName: isn_arcsmelter
Ad blocker interference detected!
Wikia is a free-to-use site that makes money from advertising. We have a modified experience for viewers using ad blockers

Wikia is not accessible if you've made further modifications. Remove the custom ad blocker rule(s) and the page will load as expected.