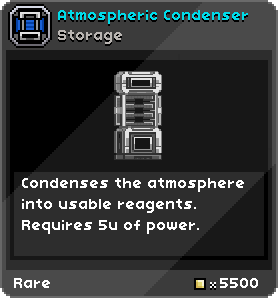 The Atmospheric Condenser is a Powered Station that pulls resources straight out of the air. To use it simply power it, and collect the things it produce.
This Powered Station requires 5u of power to work.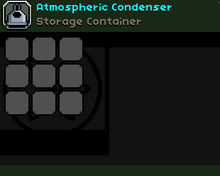 Unlocked by: Liquid Collector
The atmospheric Condenser generates a random number between 1 and 100 each tick. If the number equals 100 (1% chance), it produces a random item from the rare item list. If the number is between 79-99 (21% chance), it produces a random item from the uncommon item list; otherwise, it produces a random item from the common item list.
Every time an item is produced there is a cooldown which depends on the rarity of the item and the world type.
Produces:
Edit
Unlocks:
Edit
Use the source material to update the list.
Ad blocker interference detected!
Wikia is a free-to-use site that makes money from advertising. We have a modified experience for viewers using ad blockers

Wikia is not accessible if you've made further modifications. Remove the custom ad blocker rule(s) and the page will load as expected.