Purified, extracted bloodstone.
Can be found via extraction (see list further below).
Found in blood stone/crystal biomes
In screenshot to right of character.
Need to look carefully for this ore as the color blends in with the blocks.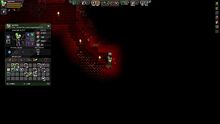 Extraction
Edit
When used as input for extraction, this item has the following yields.

WARNING - This is an "automated" page. As the Wiki is getting an extensive overhaul, any content added to this page may get deleted in the near future! If you think this page needs a particular piece of information, join us on the Discord server: https://discord.gg/eV9dP4w