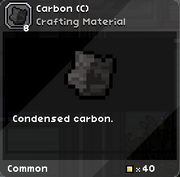 Carbon is a crafting material used in numerous recipes, but most particularly in Carbon Plate.
Extraction
Edit
From the Hand Mill or any of the Extraction Lab variants:
Carbon can also be extracted using the Iron Centrifuge, Industrial Centrifuge, Lab Centrifuge, or Gas Centrifuge from the following liquids:
Atmospheric Condenser
Biome
Rarity
Moon

Desert Moon

Shadow Moon

Rocky Moon

Volcanic Moon

Toxic Moon

Common and Rare
Uncategorized

Fungal

Crystal Moon

Bog

Desert

Desert Wastes

Dark Desert Wastes

Irradiated

Penumbra

Lightless Sphere

Proto-World

Dark Proto-World

Tar Ball

Uncommon
Ice Wastes

Dark Ice Wastes

Nitrogen Sea

Common
Infernus

Dark Infernus

Common and Uncommon
Arc Smelter/Blast Furnace
As Output from
As Bonus from
Coal

Metal Bars

Heavy Iron Bars

Coal

Iron Ore

Dry Sand

Rusty Block

Rusty Metal

Sand

Loose Silt

Durasteel Ore

Tungsten Ore

Violium Ore
Arc Smelter Yield
Edit
itemName : fu_carbon
Ad blocker interference detected!
Wikia is a free-to-use site that makes money from advertising. We have a modified experience for viewers using ad blockers

Wikia is not accessible if you've made further modifications. Remove the custom ad blocker rule(s) and the page will load as expected.