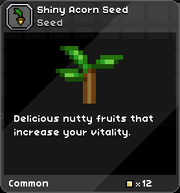 Delicious nutty fruits that increase your vitality.
This plant has been renamed to the Helkat seed.
Harvesting relieves it of Helkat Nuts.
Crafted at Gene Design Lab
Ad blocker interference detected!
Wikia is a free-to-use site that makes money from advertising. We have a modified experience for viewers using ad blockers

Wikia is not accessible if you've made further modifications. Remove the custom ad blocker rule(s) and the page will load as expected.