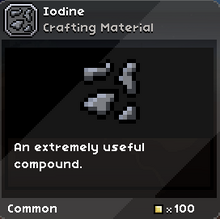 Iodine is a crafting material obtained by extracting various blocks in the Extraction Lab.
Used in many things, from several types of cell research to use in Methyl Iodine, an ingredient for the item Pesticide. Also used in the production of Graphene.
Ways to Obtain
Edit
The list below will include various blocks that, when extracted in the Extraction Lab, will result in Iodine.