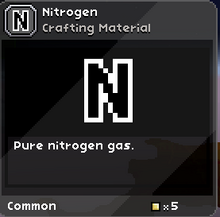 Nitrogen is a crafting material used in the creation of different Fertilizers as well as the Cooling EPP.
Methods to Obtain
Edit
Nitrogen can be extracted from various sources
| Input | Output |
| --- | --- |
| 50x Pus | 6x Nitrogen |
| 1x Liquid Nitrogen | 1x Nitrogen |
| 5x Algae | 1x Nitrogen |
| 1x Flower Seed (Any color) | 1x Nitrogen |
| 1x Poop | 3x Nitrogen |
| 10x Healing Water | 1x Nitrogen |
It can also be collected from the air via Atmospheric Condenser.
It can also be obtained by smelting Plant Fibres in any Furnace.
itemName : fu_nitrogen
Ad blocker interference detected!
Wikia is a free-to-use site that makes money from advertising. We have a modified experience for viewers using ad blockers

Wikia is not accessible if you've made further modifications. Remove the custom ad blocker rule(s) and the page will load as expected.