The Powder Sifter is a Powered Station that filters through powders like Fine Sand, Rainbow Sand, Gravel and others to generate useful materials.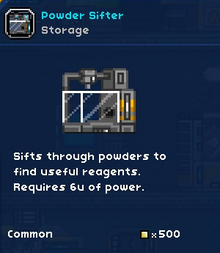 This Powered Station requires 10W of power to work.
Place the block to be filtered in the Powder square and collect the loot in the other squares.
Mechanics
Edit
The Powder Sifter is classified internally as a powder-type centrifuge, so typical centrifuge mechanics apply.
The base chances associated with the Powder Sifter are as follows (these chances are modified by chance divisors of 3 to produce final chances for individual items):
The Powder Sifter's outputs, like those of liquid centrifuges, depend entirely upon the type of input placed in the Powder slot.
Steel Ash (non-existent material)
Edit
Unlocked by crafting Solar Panel
Use the source for updating.
Source Material 3: Click Here (only the itemMapPowder section applies)
itemname: isn_powdersifter
Ad blocker interference detected!
Wikia is a free-to-use site that makes money from advertising. We have a modified experience for viewers using ad blockers

Wikia is not accessible if you've made further modifications. Remove the custom ad blocker rule(s) and the page will load as expected.