Unmatched clean energy at 40 to 120u. Fuel type will decide output.
The Quantum Reactor is the most efficient Power generator crafted at the Power Station, and can output 128u at its highest capacity. It can use bio-fuels and high end fuels such as Solarium Stars and Plutonium as Fuel.
Unlocked by: Fission Reactor
Mechanics
Edit
The Quantum Reactor, unlike the Fission Reactor, does not go from no power to full power (and back) instantaneously. Instead, while fueled, its power, a variable which ranges between 0% and 100%, increases by 5% per second, and when the reactor is out of fuel, power decays by 5% per second.
The Quantum Reactor accepts the following fuels and has the following power outputs while running on these fuels:
Power Station
Edit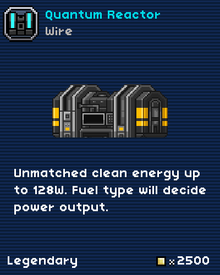 Spawnitem ID
Edit
/spawnitem fu_quantumgenerator

https://github.com/sayterdarkwynd/FrackinUniverse/blob/master/objects/power/fu_quantumgenerator
Ad blocker interference detected!
Wikia is a free-to-use site that makes money from advertising. We have a modified experience for viewers using ad blockers

Wikia is not accessible if you've made further modifications. Remove the custom ad blocker rule(s) and the page will load as expected.