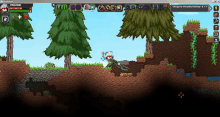 Ripper Gun is an assault rifle that can be crafted at the Elder Altar with Elder Artifact,Rune Wand and Elder Core .Secondary Attack -It wastes ALL of your energy, so even if you waste almost all of your energy and use this ability, it will fire with the same damage.
NOTE: THE SECONDARY ATTACK OF THIS WEAPON DESTROYS EVEN HARD BLOCKS, IT CAN ONLY BE CRAFTED AT THE ELDER ALTER FOUND IN THE FROZEN WASTES DUNGEON(NOT THE PLANET).
Primary Attack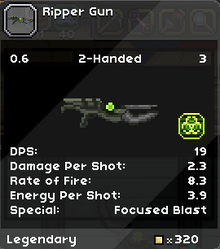 Ad blocker interference detected!
Wikia is a free-to-use site that makes money from advertising. We have a modified experience for viewers using ad blockers

Wikia is not accessible if you've made further modifications. Remove the custom ad blocker rule(s) and the page will load as expected.