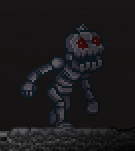 The Zombot is type of enemy found in Metallic Moon Biomes, it looks like a big skeleton robot.
It has a very large healthpool and 2 powerful special attacks: a slow moving, high damage attack called "Gravity Ball," and a flamethrower-style attack called "Ancient Flames." It's basic melee attack, bash, deals a moderate amount of damage, though the Zombot is very slow moving and can barely jump.
Several types of fruit
Several ores
Several types of Legendary Stimpacks
Circuit Board
Laser Diode
Wire
Several Throwables
Plant Fiber
Ad blocker interference detected!
Wikia is a free-to-use site that makes money from advertising. We have a modified experience for viewers using ad blockers

Wikia is not accessible if you've made further modifications. Remove the custom ad blocker rule(s) and the page will load as expected.